Fall Concert | Voices of Flower Mound "That 70's Show"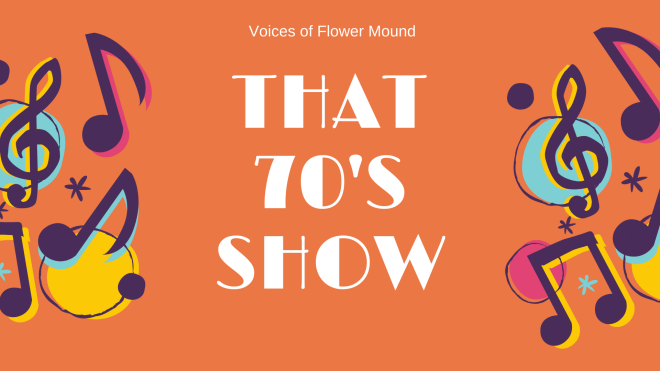 Sunday, October 03, 2021, 2:00 PM - 4:00 PM
In 1977, the Bees Gees asked How Deep Is Your Love. The Voices of Flower Mound will answer that timeless question at their Fall Concert That '70s Show. This immersive event will take you back in time to that wonderful decade where love made everything seem possible.
Join us in your vintage '70s clothes for an entertaining program filled with melody and fun. You'll hear hits from Aretha Franklin, Stevie Wonder, Elton John, Neil Diamond, Carole King and more. This amazing show is just What the World Needs Now! Come early for the best seats and be prepared to relive the psychedelic '70s in your grooviest attire!
Purchase Tickets from Voices of Flower Mound
---
Upcoming Fall Concerts
View calendar for details
Saturday, October 16 | 7 pm
Bach's Brandenburg Concertos
presented by American Baroque Opera Company
Saturday, October 23 | 7 pm
Center Stage Brass
Saturday, November 20 | 7 pm
Amanda Kana, trombone