Live Nativity | Chick-fil-A Spirit Night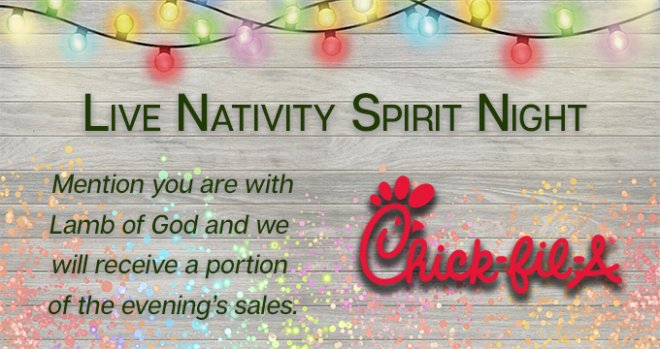 Tuesday, November 12, 2019, 5:00 PM - 8:00 PM
Join us to help spread the word about the Live Nativity event at our first ever Chick-fil-A Spirit Night. Mention you are with Lamb of God and we will receive a portion of that evening's sales.
Location: 2001 Long Prairie Road, Flower Mound TX
---
Saturday, December 14 | 1 pm - 5 pm
The annual Live Nativity is a presentation of the Christmas story and is free for the community. We have celebrated the true meaning of Christmas with Live Nativity presentation for years. Please help us continue this beautiful tradition. From set construction to characters, manual labor to cookie baking, set and costume design, all help is warmly welcomed and so appreciated.